Author Ed Rice at the Skidompha Library on July 26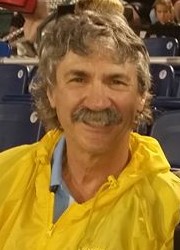 Chats with Champions is proud to present Ed Rice on Tuesday, July 26 at 10 a.m. in the Porter Meeting Room at Skidompha Library. Rice is the author of "Baseball's First Indian: The Story of Penobscot Legend Louis Sockalexis".
Born in 1871 on the Penobscot Indian Reservation in Maine and the nephew of a chief, Louis Sockalexis became the first professional Native American baseball player. Ultimately, his prowess on the diamond inspired the name of the Cleveland baseball team, which has since changed from the Indians to the Guardians. Rice will present a talk to raise awareness of the Louis Sockalexis Monument Organization, a non-profit organization dedicated to building a monument in Maine to honor the athlete.
Exploring the brilliant but all-too-brief major league career of the "Deerfoot of the Diamond", Baseball's First Indian follows Sockalexis' rise to the majors, his fall to the New England minor leaguers and his eventual return to the reserves. of Maine, where he continued to coach baseball and work as an umpire.
Ed Rice grew up in Bangor, Maine and was an art critic for the Portland Press Herald/Maine Sunday Telegram, Maine Times and Maine Public Broadcasting System's "Maine Things Considered". He has taught journalism and communication studies at several colleges, as well as taught high school English and coached across the country. An avid distance runner who has run 27 marathons (including eight Boston Marathons), Rice created Bangor's popular Terry Fox 5K in 1982 and ran the charity event for more than 20 years. In 1997, he ran across the state of Massachusetts (162 miles in seven days) to support a research fund to help end ALS. Rice also edited If They Could Only Hear Me, a collection of personal essays about battling ALS. Her latest book, "Robin Emery: 50 Years of Flying Shoes," a biography of one of Maine's running pioneers, was published by Down East Books in March. He lives with his wife, Susan, in New Brunswick, Canada.
Chats with Champions is a free community offering from Skidompha Library at 184 Main Street, Damariscotta. Sherman's Maine Coast Book Shops generously sponsors this program. For more information, please contact the library at 207-887-0919.