Author Fred Hill at Boothbay Memorial Library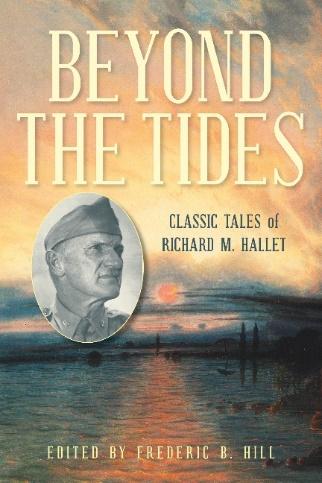 Join us at 1 p.m. on Saturday, October 1 in the Great Hall of the Library to hear Fred Hill discuss his new book, "Beyond the Tides," a collection of works by Richard M. Hallet, author and first president of Bootbay Harbor Memorial Library.
Hallet, a longtime Boothbay resident, gave up a career in law after graduating from Harvard Law School and became a popular writer in the first half of the 20th century, often compared to Jack London and Joseph Conrad.
Before giving up a career in law for a life as a writer, Richard Matthews Hallet lived an exciting life of adventure, which included a stint as a police officer and as a sailor aboard a schooner in destination Australia. He then traveled this country on foot and lived by his spirits in England for a time before returning to the United States. Later, he served as deck officer on warships ferrying soldiers and horses across the Atlantic during World War I and faced attacks from submarines.
During her lifetime, Hallet wrote numerous novels, an autobiography and over 200 short stories which were published in the most widely read magazines of the time, including the Saturday Evening Post, Harper's, Atlantic, Collier's, Everybody's and American Legion Monthly. The stories collected here, published in the first half of the 20th century, include vivid tales of the sea, both in the age of sail and in the midst of war, often built around the tensions and tumult aboard ships. ships; and stories of Maine and New England and their small-town values ​​and rivalries.
About the editor
Frederic B. Hill was a reporter, correspondent and columnist for The Baltimore Sun from 1965 to 1985, including tours in London and Paris, covering Europe and southern Africa. After two years as director of foreign affairs for Senator Charles McC. Mathias, Jr. (R-MD), he joined the Department of State in 1986 and established the Office of Special Programs, which conducted policy planning exercises and roundtable discussions on political/military, economic and global.
Originally from Maine and a graduate of Bowdoin College, he and his wife Marguerite live in Arrowsic, Maine and Baltimore, Maryland. He serves on the advisory board of Maine's First Ship, a non-profit organization that is building a reconstruction of Virginia, one of the first ships built in America at Popham Beach in 1608. Like Hallet, Hill studied law (more briefly), but with Hallet's encouragement he turned to a successful career in journalism, as well as travels and adventures around the world as a foreign correspondent. , then director of wargaming exercises on national security issues at the US State Department and as an accomplished author. William Donnell Crooker, one of the main figures in his book "Ships, Swindlers, and Scalded Hogs" (Down East Books, 2016), was his great-great-grandfather.