Author Shares Fun Knitting Designs and Crafts in New How-To Guide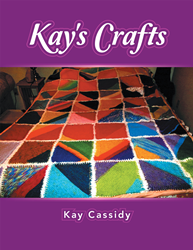 "In the book, I start with the smallest and easiest patterns and work my way up to the larger ones in the correct order," Cassidy said. "Each chapter will detail a different craft that any experienced craftsman can appreciate."
PORT ORCHARD, Washington (PRWEB)
January 11, 2022
There are many ways to create and knit, and Kay Cassidy puts her 50 years of experience to use in her recently published book, "Kay's Crafts". The author features various designs that any craftsman would love, which are seen throughout the pages.
The book is a great introduction for readers looking for a new hobby that they can practice in their spare time. "Kay's Crafts" is a unique book filled with different patterns and directions for finding the perfect craft. Throughout the book, the author shares colorful photographs and steps that will make learning these new skills fun.
Readers will learn how to crochet, make quilts, paint, among other things that will bring color and light into their lives. Cassidy has been knitting and crocheting since the age of 13 and hopes her designs will be new additions to any craftsman's work catalog.
"In the book, I start with the smallest and easiest patterns and work my way up to the larger ones in the correct order," Cassidy said. "Each chapter will detail a different craft that any experienced craftsman can appreciate."
Ultimately, "Kay's Crafts" will provide a how-to guide for any skill level. By the end of the book, readers will learn new ways to create fun designs and learn a new hobby that they will fully enjoy.
"Kay's Crafts"

By Kay Cassidy

ISBN: 9781665529778 (soft cover); 9781665529785 (electronic)

Available at AuthorHouse, Amazon and Barnes & Noble
About the Author

Kay Cassidy is a passionate knitter and artisan. She recently published a new book, "Kay's Crafts". She has also written four additional books so far, each an autobiography. Cassidy was born in Bremerton and has lived on the West Coast for most of her life. She enjoys traveling, crafts, writing and also singing. In addition to writing books, she has also written songs and plays seven musical instruments. Cassidy currently resides in Port Orchard, WA.
General Information:

LAVIDGE – Phoenix

[email protected] | 480-998-2600

Share the article on social media or by email: