Author Zehra Naqvi's letter to her eldest is what every woman should aspire to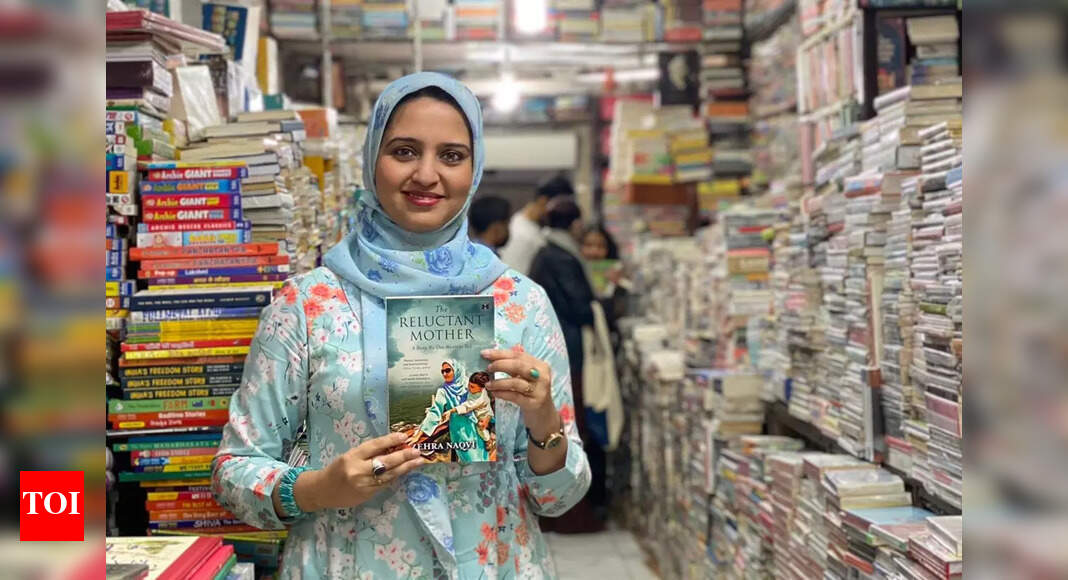 They say being a mother is a sacred feeling, but what happens when you don't fall in love with your baby at first sight and instead discover that love during your motherhood journey? Although not much is said about the struggles and conflicts of being the "perfect" mother, it is nonetheless a topic that most women would identify with.
Zehra Naqvi's first book, a memoir, titled "The Reluctant Mother" is "a book of rage…Rage to be alone in her pain, to have her conflict minimized and her struggles trivialized. This is the story of a young woman seeking to find herself in a world that is constantly trying to define her and who she should be," reads the blurb for the book.
On this Women's Day, here is an excerpt from Zehra Naqvi's book "The Reluctant Mother", courtesy of Hay House Publishers India.


This letter from the author to her eldest might seem relevant to many Indian women. Continue reading:
Dear 60 year old me,

If you're reading this, you've managed to stay alive for six decades, which is no small feat. I am sure you are much wiser than me; you have known the vicissitudes of life to a much greater extent. But I'm also quite sure that your memories of me have faded to a point where you only see me in sepia tint.

You are now standing at a great height and can see a greater expanse. But since I'm standing lower than you, closer to the ground, I can see small things in much more detail, with much more colorful vividness. And I want you to never, ever lose the colors in your life. I don't want you, me who's 60, to find your colors turning gray like your hair sure would. Gray in hair is a good thing, actually: it means you have two-tone hair without spending a dime at the salon. But I hope you'll still visit the salon when you're 60 – don't let yourself slide into dull 'holiness' just because your child has grown up.

The reason I am writing to you now is to remind you of how you were 30 years ago and to remind you of what youth is like. Thus, you can understand those who would then be "new", even if you slowly enter the "old". Now, here's my little secret to staying close to your child, and especially the woman who falls in love with your child: Don't grow old. You heard it right. Stay New.

Don't you have heirlooms, jewelry, chandeliers, etc., that never degenerate, no matter how technically "aged" they are? They stay chic, vintage, so to speak.

Like new. But being vintage and staying "like new" takes a lot of effort. And no, I'm not just talking about trips to the salon, although those won't hurt either.

The most important thing that needs to stay like new is your mind, through careful maintenance and refurbishment. If you want to understand the "new" people of your time, you will have to carefully read and observe the thoughts and ideas prevalent among young people at the time, you will have to be aware of the things they find entertaining and the things they find exciting – as well as the evolution of the thought process – without being dismissive and judging them. I can tell you for sure that they would be miles away from your own value system and interpretation of the world, but being dismissive or belittling won't help. In fact, you would need to keep an open mind, because the things you considered acceptable might turn out to be really outrageous. Remember, there was a time when slavery, sati, and domestic violence were all considered acceptable. It also won't hurt you to try to figure out where your generation went wrong.

You would need to read as much contemporary literature of the time as possible, watch contemporary movies, read/watch the news, and be aware of the events around you.

You would need, above all, to listen to what your children say, analyze the things they say and discuss them with your own ideas. Discuss your ideas with them based on reason and sensibility, without resorting to the clichéd appeal of "in our time, my son". . .' or 'when I was your age. . .'

I know for a fact that I hate these lines, and your son will hate them too, not to mention the woman he will share his life with. The best approach is to find common ground, but only when absolutely necessary.

In most cases, adult children can and should be able to make their own decisions, and the best approach for you as a parent is a hands-off policy. You raised your son to be an independent boy, so let him exercise that independence now and let him make decisions with his partner. If you need advice, offer it in a positive way and preferably to the boy you raised, not the girl raised in another family with perhaps a set of ideas, values ​​and ways of life. entirely different lives. At first, you might not understand her at all, so it would be best to let the man she chose to live with handle all the issues.

Otherwise, how do you stay new? By embracing the gadgets and technology of the times you live in. I understand that it wouldn't be easy at all, because I can't imagine what the technology would look like in 30 years. But I need you to remember now how hard learning to cook was. Learn to drive first. First learn how to raise a baby. First learning to fend for himself in a big city, after having lived his overprotected life in a small town. Everything is hard for the first time, but you've mastered bigger things than a NewAge gadget, so I expect you'll be interested and using New Age gadgets even now, when you're 60. New Age inventions will let you into the cool world and you won't feel left out. This is going to be important, I think, because you get gray in the hair.

What is going to be even more important, dear 60-year-old me, is to have other accomplishments, commitments and sources of joy than your children and grandchildren. Believe me, this is going to be crucial for your happiness. It's one of the reasons I find so much joy and pride in my writing, both personal and professional, in my books and in my travels. If I were to center my whole life around my son and make him my sole achievement in life, you would be most affected. For, this realization would no longer need to be mothered at age 30 and would instead find solace in another woman. I want you to be prepared for this and not put your son at the center of your life.

I also don't want you to base all your happiness on events in his life because the core of that happiness belongs to him; only the periphery belongs to you. If you derive all of your happiness from his marriage and children or his professional accomplishments, you will find yourself trying to control all of those decisions in a way that makes you happy. If, for example, he chooses a profession or a girl that does not correspond to your ideal, you will feel betrayed because it was your only source of happiness. If he chooses to have/not have children against your wishes, you will feel betrayed because you would have focused your happiness only on them. For your sanity, your happiness, and especially that of your son, derive joy from the things in your own life.

Set goals for yourself, goals unrelated to family. Goals for your own achievements, professional or otherwise. Don't let your only skill be taking care of others, because then you can never let your son behave like an adult. Worse, you'll even start to expect your daughter-in-law to act like a "mother" to your son – a fatal mistake.

Build your happiness around you. Keep in touch with your friends and visit them. Join a book club or similar community where you have other people to share your days with. Don't make family the only focus of your life. Make a list of books you would like to read now, make a list of places you would like to travel. Just because older people in India are only supposed to travel for pilgrimages doesn't mean older people in other countries don't pack up and become globetrotters when they retire!

In fact, imagine what an opportunity it is, for travel and for romance.

Your son has grown up and has his own family. You finally have the house for you and your man. Isn't that a tantalizing thought? You could simply take inspiration from the gray in your hair: gray is sexy. You do not believe me ? Ask all those screaming Fifty Shades of Gray fans.

So go ahead and plan your vacation, explore the world, try new things and have fun. Age is no barrier to adventure, and young people would always like to have more enthusiastic elders! Plus, when you have fun in your own life, you won't regret all the fun your daughter-in-law would have in hers.

Yes, you heard me. This is what usually causes a lot of heartburn for mothers-in-law: "Humne toh kabhi aisa nahi kiya!"

"We never used to do that, tsk tsk."

When, in truth, what they really think is: 'Kaash humne bhi aisa kiya hota!'

"I wish I could have done that too!"

You better believe it.

And, yes, when your son becomes a father himself, try to understand that it is his turn to become a parent. You had yours when you raised it. So you left his wife and him to raise their child their way. Suggestions are fine, but make sure they are framed in a positive way and don't turn into taunts of incompetence or lamentations of 'aaj kal ki maaein!' If you want people to benefit from your experiences, try to be helpful instead of judgmental.

READ MORE: 5 children's books recommended by Kate Middleton, Duchess of Cambridge