Award-winning director and author Paul Kyriazi releases new book – 122 Surprising Movie Star Stories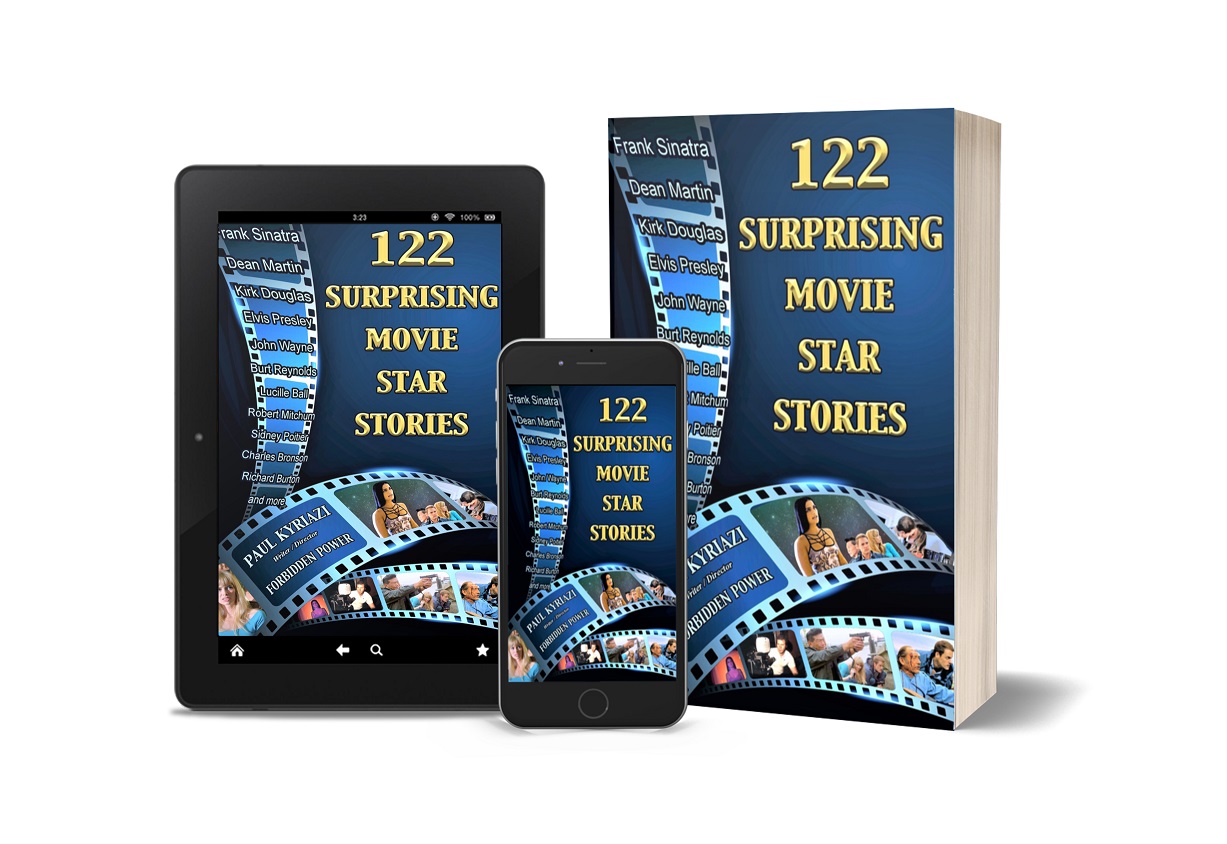 Paul Kyriazi is pleased to announce the release of his new book, 122 Surprising Movie Star Stories.
122 (and 13 other bonuses) positive and unusual stories from mostly movie stars of the 60s and 70s.
Most of these stories would have been lost had they not been captured here. They came from out-of-print autobiographies and talk show interviews. Discover your favorite stars in fascinating situations, which show them in a positive light.
Stories include celebrities like – Frank Sinatra, Dean Martin, Kirk Douglas, Elvis Presley, John Wayne, Burt Reynolds, Lucille Ball, Robert Mitchum, Sidney Poitier, Charles Bronson, Richard Burton and many more.
Book Information
122 surprising stories of movie stars
By Paul Kyriazi
Publisher: Ronin Books
Released: December 8, 2021
ISBN: 979-8774851461
ASIN: B09MMX6PW2
Genre: Movie Star Story Collection, Entertainment, Celebrities
About the Author:
Paul Kyriazi has directed seven feature films, including the award-winning Forbidden Power (2018). He is the author/producer of five complete audio books with Rod Taylor, Robert Culp, David Hedison, James Darren, Henry Silva, Russ Tamblyn and George Chakiris. He created the Live the James Bond Lifestyle seminars.
Contact information:
Twitter: https://twitter.com/bondlife
Facebook: https://www.facebook.com/paul.kyriazi
LinkedIn: https://www.linkedin.com/in/paulkyriazi/
BookBuzz: https://book-buzz.net/book/122-surprising-movie-star-stories-by-paul-kyriazi/
Media Contact
Company Name: BookBuzz
Contact person: Amanda – Public Relations Manager
E-mail: Send an email
Call: 7065098422
Town: New York
State: New York
Country: United States
Website: https://www.bookbuzz.net