Award-Winning Minnesota Author Speaks About Dementia at Douglas County Library – Alexandria Echo Press
ALEXANDRIA – author from Minnesota
spoke to a crowd of nearly 40 people at the Douglas County Library during a get-together about dementia and his award-winning book about it.
The June 13 event was part of the library's annual community reading effort.
"I thought it was fabulous," said Dawn Dailey, director of the Douglas County Library. "I was excited to see how many people showed up."
Each year, Friends of the Library selects a book by an author from Minnesota or at least with Minnesota ties for the Douglas County Library's Community Reading Program, then creates events related to a topic in the book. .
This year, they chose "I Know an Old Lady," a book about a young boy sentenced by a judge to spend his summer working for an elderly woman the city suspects is a child killer.
Since the book is about dementia, speaker events have been scheduled to present information on different aspects of dementia.
On Tuesday, June 7, Annie Erickson shared her personal experiences living with her husband's dementia. She is currently writing "Love in the Time of Dementia: A Memoir in Essays". A book that challenges society's fears of dementia, according to the library's website.
Rona Karasik, professor of gerontology at St. Cloud State University, will present on the technical side of dementia on Monday, June 27 at 4 p.m.
Dr. Joe Gaulger, Professor in the School of Public Health in the Division of Health Policy and Management and Director of the Center for Aging, will present on the Professional Side of Dementia Management on Monday, July 18 at 10 a.m. and 2 p.m.
"We did three sides; the empathy, technical and professional sides of dementia," Dailey said. "We try to do things that involve the community since this is a community read."
All presentations will take place in the library meeting room.
"I'm really starting to read. I've really started to enjoy it now that I'm retired," said Barb Flolo from Alexandria who attended Monday's event. "When I read that she was coming, it sounded so interesting, I had to come. And I love coming to the library."
Flolo says that although she hasn't read "I Know an Old Lady", she is excited to start because she hears it's "awesome" and anxious because she knows it touches on dementia, which is rampant in his family.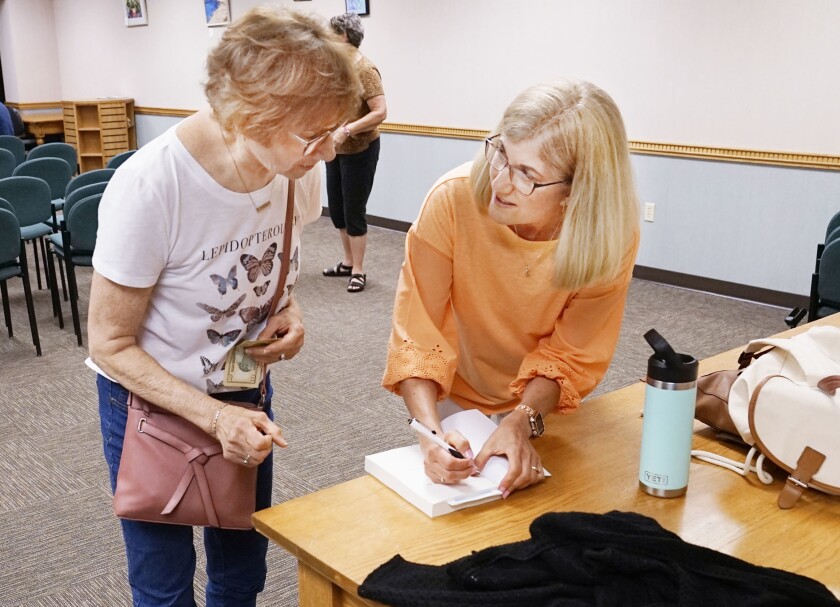 Before wrapping up with an audience of questions and answers, Standafer spoke for nearly an hour about her reluctant start as an author when she tried to prove to her pushy husband that she couldn't write. She also talked about her inspiration and writing process, her completed series and an upcoming series as well as her award-winning book, "I Know an Old Lady."
"Honestly, I never thought I could do something like this," Standafer said when asked what it meant to her to come and talk about her work with communities in Minnesota. "I love being able to do that."
'I Know an Old Lady' Won Standafer the 2021 Minnesota Author Project Award
Best Author of Independently Published Adult Fiction
through
Minnesota writes Minnesota reads
.
Bethany on the Lake, the Statewide Health Improvement Partnership and the Minnesota Arts and Cultural Heritage Fund are sponsoring this year's Community Read events.