Documentary about artist and author Ashley Bryan screens at the Strand Theatre, July 17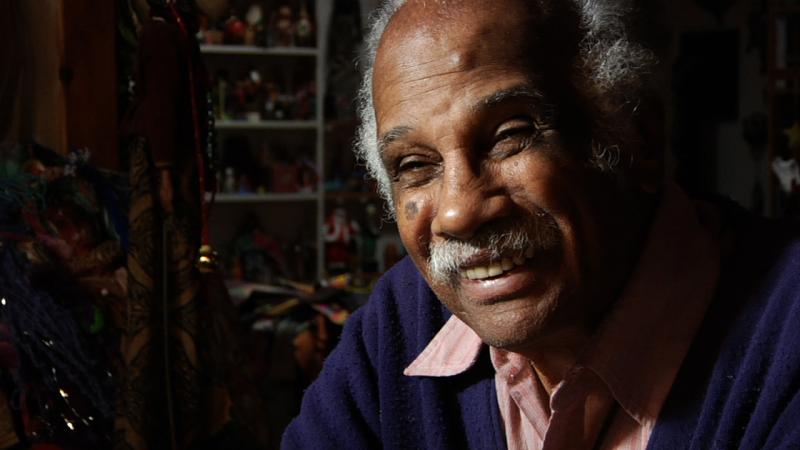 ROCKLAND — The documentary film I know a man… Ashley Bryan by Sedgwick filmmaker Richard Kane and Brooksville political artist Robert Shetterly premieres Sunday, July 17 at 2 p.m. at the Strand Theatre. This screening follows the Farnsworth Museum's Community Open House in honor of Ashley Bryan.
Distinguished artist, author, storyteller and teacher, Bryan's artistic work includes paintings, linocuts, illustrations, puppets and stained glass.
"Widely honored in the field of children's literature, Bryan is recognized as the author and illustrator of more than fifty books for young readers, and is particularly known for his work in raising awareness of the oral tradition of African folk tales and African-American spirituals to new audiences through his vibrantly illustrated books meant to be read and shared aloud," The Strand said in a press release. "A gifted storyteller, his lively performances of call and response captivated audiences around the world."
Born in Harlem and raised in the Bronx, Ashley Bryan's talent was nurtured by artist Romare Bearden. Bryan was drafted from Cooper Union College in New York into the separate United States Army at age 19. He served in an all-black battalion during World War II and preserved his humanity by drawing and storing supplies in his gas mask. For the past 53 years he has lived on the remote Cranberry Islands and used art to celebrate joy, ease the darkness of war and racism, explore the mysteries of faith, and create a loving community.
In the film, Bryan quotes Marian Anderson as warning "to keep another down, you must hold them down, and therefore cannot…elevate yourself to the potential within you".
"The story of his life and the art he creates from this source of experience is inspiring to people of all ages," said The Strand. "Bryan urges us to seek unity rather than division, peace rather than war, and love rather than intolerance and bigotry."
Bryan is the recipient of the New York Public Library's Literary Lion, multiple Coretta Scott King Awards, and the Newbery Honor for one of his latest books, freedom over me.
He died on February 4, 2022 at the age of 98.
Tickets for the screening are $8 or $7 for Strand Theater members. For tickets and information, visit www.rocklandstrand.com or call 207-594-0070.
The Strand Theater is located at 345 Main Street, Rockland.