Valentino Narratives Campaign II: Author interviews, images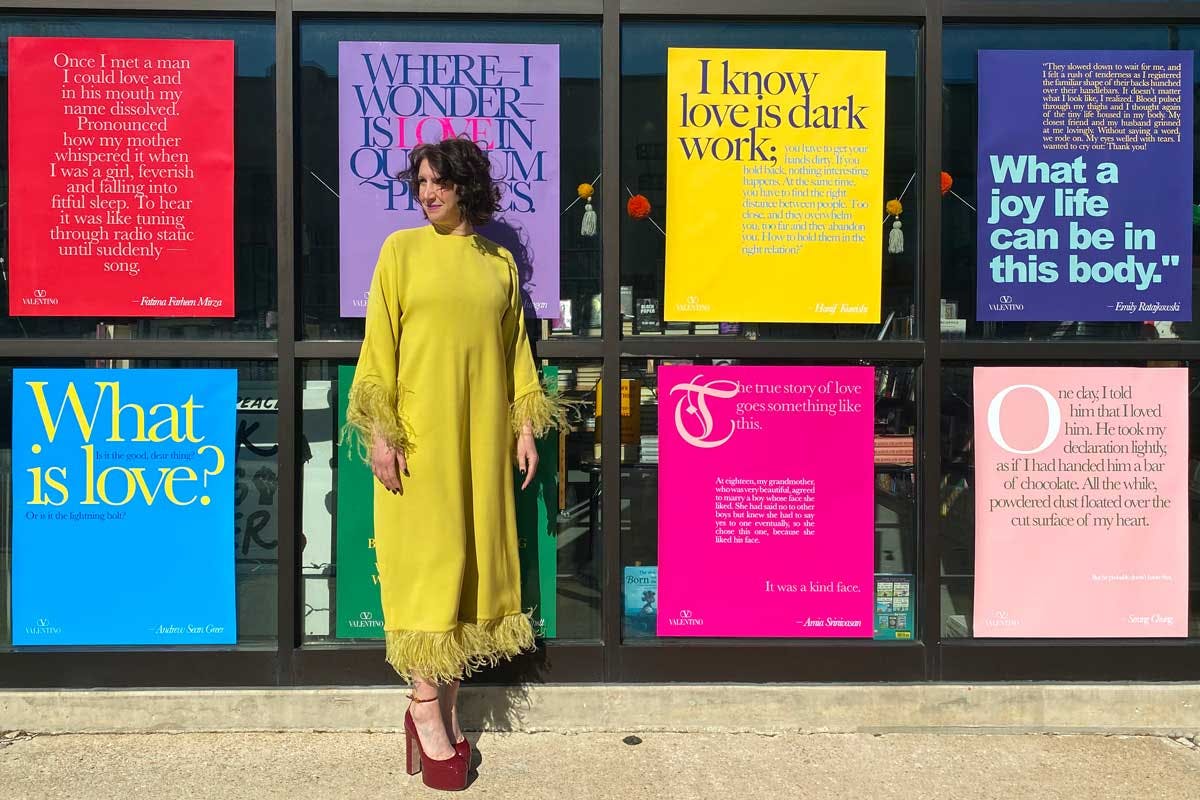 For the second time, Valentino has brought together a stable of world-renowned authors and artists to concoct text-based artwork for his ongoing Narratives project.
Valentino's creative director, Pierpaolo Piccioli, has once again assembled an all-star cast for Narratives II, featuring Brit Bennett, David Sedaris, Fatima Farheen Mirza, Michael Cunningham, Mieko Kawakami and Emily Ratajkowski.
These 17 writers have created colorful works of art using only text, each taking a unique approach to illuminating a not-so-simple theme: love.
All books have been hung around the world, with a particular focus on poster placement in independent bookstores.
27th Letter Books in Detroit, Greedy Reads in Baltimore, Magic City in Tulsa and Cafe con Libros in Brooklyn are just a few of the local booksellers highlighting the Valentino Narratives campaign in their storefronts, a visual invitation for customers to enter. and browse stacks.
But what is love, really? Highsnobiety spoke with three Valentino Narratives participating authors — Leila Slimani, Melissa Broder and Douglas Coupland, creator of Valentino's "Pink PP" — to dive deeper.
What does this partnership with Valentino mean to you?
Leila Slimani: It's very moving for me because it's a partnership of the heart, we chose each other as lovers or friends. I really liked the idea of ​​a brand like Valentino choosing words rather than images.
Words, poetry, tend to disappear in our society. To give them a place again is also to think of emotion differently, it is to protect the mystery. And without mystery, there is no beauty.
Melissa Broder: I hadn't written a poem for years. My work has been mostly prose since 2016. But this poem just arrived on a plane, inspired by the passing of my father, and I don't know if I would have put pen to paper at that time that way if it hadn't been for the momentum of the mission, its constraints and its inspiration.
Douglas Coupland: It means a lot, because it's a cross between visual and verbal cultures, and it's also a question of color which, given my visual work over the last two decades, is obviously very important to me. i like it too [Piccioli] creates collections that are distinctly 21st century, yet seem part of a centuries-old lineage.
What is your personal relationship with Valentino?
Slimane: It is a very rare fashion house whose history has always fascinated me. For me, it is synonymous with elegance and charisma.
Embroider: I covet a lot.
Coupland: Well, I look in my dressing room and I have a Valentino item of clothing, a pink polo shirt that suits me perfectly. I would love to wear anything Valentino but I don't go to a lot of opera opening nights where I live.
I think the true measure of my relationship is the awe and overwhelming sense of beauty I felt when I watched the Pink collection show – the perfection in color, fit, craftsmanship and imposing silhouettes. Thank you, Italy.
And I like [Piccioli]The proposal of color as a means of both escaping from the real world while finding a deeper meaning in it. Imagine declaring a pink manifesto at an American production meeting. [Insert lead balloon here.]
How did you approach the theme of "love?" Was it daunting to encompass one very meaningful word?
Slimane: There is nothing more difficult for a writer than to write on a subject like love, on which the greatest geniuses have all written. What more can we say about love? But I decided not to be intimidated and to write from the heart. After all, we all have something to say about love!
Embroider: Love is my fertile territory (along with death). So that was perfect.
Coupland: I wrote a few pieces specifically for this project, but the piece I went with was the first one, which has a rawness and brutality to it. A feeling of nostalgia. I hope it went well.
Any specific independent bookstores you'd like to shout out?
Slimane: i love love love Shakespeare and company in Paris: Sylvia, the owner, is a wonderful woman.
Embroider: small world books on the promenade of Venice!
Coupland: The best bookstore on Earth is the Daikanyama T-Site in Shibuya, Tokyo. It's also probably the best store on Earth, period. It's indie yet massive yet it feels relentlessly intimate. There is new and vintage and we sail with cocktails and the furniture is Le Corbusier. It's what you thought being an adult was supposed to be. You want to live there.
In terms of a classic independent store, GENRE Books in Toronto is small but still manages to have one of everything you could want to find – which has become very difficult for independent stores.
Shop our favorite products